Halloween stores are popping up all over the place as the countdown to candy collecting begins. Halloween décor is big business today, too, and while some (OK, a lot) of it can look cheap and childish, there are many options for pumpkin décor that allow you to be festive without veering away from your sense of style. If you're ready to bring the great pumpkin into your home, here are some chic ways to go about it, whether you're crafty or crafty about how you shop.
Pretty pastels
Who says your pumpkins have to be orange or that your fall décor can't be fun and fresh? This six-piece pastel pumpkin mini mix from Etsy is handmade from white craft pumpkins, meaning you could DIY it if you wanted to. But when they look this great…
Metal
These galvanized metal lanterns from World Market offer anther unique way to dress up your home for Halloween, but with an unexpected elegance. Even better – they're on sale for $6.99 to $10.49.

worldmarket.comWorld Market offers a treasure trove of items for Halloween. (We also love these black iron candelabras, that just may be elegant enough to use all-year-round.) If Day of the Dead is more your speed, you'll love this $19.99 los muertos ceramic candy bowl that depicts four highly detailed calavera skulls.

worldmarket.comSplattered
Feeling artistic? All you need to create a pumpkin masterpiece is a little paint and a flick of the wrist. These splatter paint pumpkins have a chic style, and they're just the beginning of what you can create with paint. Check out more great options on Pinterest.

pinterest.comCarved
Don't want a face on your pumpkins but still want some time knife time? These patterned pumpkins are next-level carving and create unique methods for mood lighting. "Turn standard grocery store pumpkins into decorative votive holders that are embellished with polka-dot cutouts," said Southern Living.

Southernliving.comBreak out those crayons
Your kids will love watching the crayons melt over the pumpkins, and you'll love the outcome of this easy DIY project that produce oh-so-stylish Halloween décor.

sdentertainer.comStudded
InStyle has declared this the year of the studded pumpkin, and that's a good thing considering they're super easy to make with real studs if you wish, or, with hot glue and a studded strip. You can use either real pumpkins or the faux kind, which will last longer.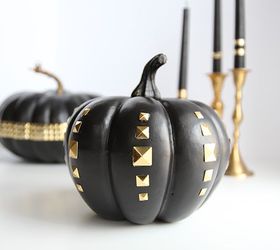 hometalk.comMercury glass
You can buy pumpkins that look like mercury glass, but they're fragile and can also be expensive. This easy trick gives you the look without the hassle. First, spray paint them white and then use a "looking glass" spray to get the mercury effect.

pinterest.comTextured
Texture is all the rage in home décor and fashion, and it hasn't escaped Halloween décor. These velvet pumpkins are one of the hottest items this year, and they're all over the board in terms of cost. (We saw one for almost $100 at a posh boutique!) Save yourself some money, and a whole lot of hassle since this is not one of the easier DIY-friendly crafts unless you're very experienced and very patient, and head to Target. This three-piece collection is just $18, and there's no orange in sight!

Target.com
Written by Jaymi Naciri